Cape Ann Shotokan Club
Welcome to the Cape Ann Shotokan Club, formed to fill a regional gap for solid Shotokan Karate in a friendly and supportive environment. Located in Gloucester MA (01930), the club started in early 2015 to honor the memory of an old Sensei and and old friend, Peter Young. Classes are mostly run by Matthew Natti, who started his karate training in 1994, under Sensei Young. Matthew also trained extensively in the dojo of Sensei David Johnston (former technical director of the AJKA and founder of San Juan Shotokan). The Cape Ann Shotokan Club is affiliated with the ISKF (International Shotokan Karate Federation) and all members work hard to uphold the ISKF teachings and traditions. A number of our current students are also members of (and/ or train at) the Brown University Shotokan Club http://students.brown.edu/shotokan/ and the Salve Regina Shotokan Club https://salve.collegiatelink.net/organization/Karate (both also ISKF) in Rhode Island.
Shotokan "Karate- do," which translates loosely to "the way of the empty hand," focuses on self improvement, rather than competition..... both in and out of the dojo. The CASC practice basics (kihon) and forms (kata) with the feeling of "shoshin," or "beginners mind." Shotokan karate training should not start/ stop at the dojo door but extend into all aspects of ones life.
Interested in joining the club, or just trying a few classes? The first class is always free. Please just call/ text ahead of time to let us know you are coming (978.879.6984). The Cape Ann Shotokan Club offers open enrollment, so we are always accepting new members. Grab a friend (having a buddy helps to get through the first few months) or just come down and meet the current members! We pride ourselves on a friendly, equal opportunity and non- competitive environment.
The Dojo Kun
These are the 5 "rules" of dojo ettiquette & self improvement, as established by Gichin Funakoshi- the founder of Shotokan Karate.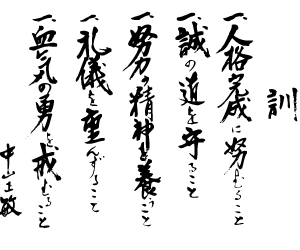 - Calligraphy by Master Masatoshi Nakayama -
Seek Perfection of Character
Be Faithful
Endeavor
Respect Others
Refrain From Violent Behavior